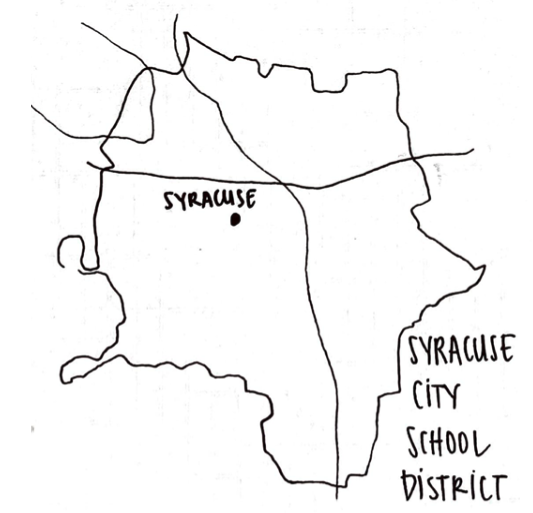 Purpose
The purpose of the Antiracist Algebra Coalition is to connect Syracuse community members and stakeholders in education to explore the intersection of antiracism and students' success in algebra in Syracuse.
We aim to educate ourselves, educate others, and advocate for change.
---
Ongoing Work & History of the Antiracist Algebra Coalition:
We are currently convening youth — Data Warriors — in group settings to share their passions and interests in addressing environmental justice in Syracuse with a math lens. This work will build our capacity to design new math lessons, and host community-engaged events while centering young people's voices in antiracist algebra.
Our focus in Summer 2022 is to systematically study how antiracist algebra teaching supports students' learning through Dr. Gholdy Muhammad's "cultivating genius" lens of joy, criticality, intellect, skill, and identity.
In Spring 2022 our work is focused on designing and implementing social justice math units in high school and middle school. We hosted the community-engaged math event "A Sense of Place" on May 7, 2022.
Fall 2021 Work Sessions were held in October and November and focused on Black Brilliance and Mathematics Coaching
Spring 2021 was the initial convening of the group to set aims, visions, and foci of our work.
---
Features in the News and Press
---
Teaching is a Journey: A Journey Toward Anti-Racist Practice
Read more about Nicole's Journey toward antiracism as an antiracist math educator. Or watch the video below as Nicole describes a Zine she created to share part of this story.
The Work of Antiracism
The work of antiracism is an active process of interrogating and dismantling processes and policies that contribute to inequitable opportunities for racial groups along a hierarchy. This includes individual, interpersonal, and structural forms of racism.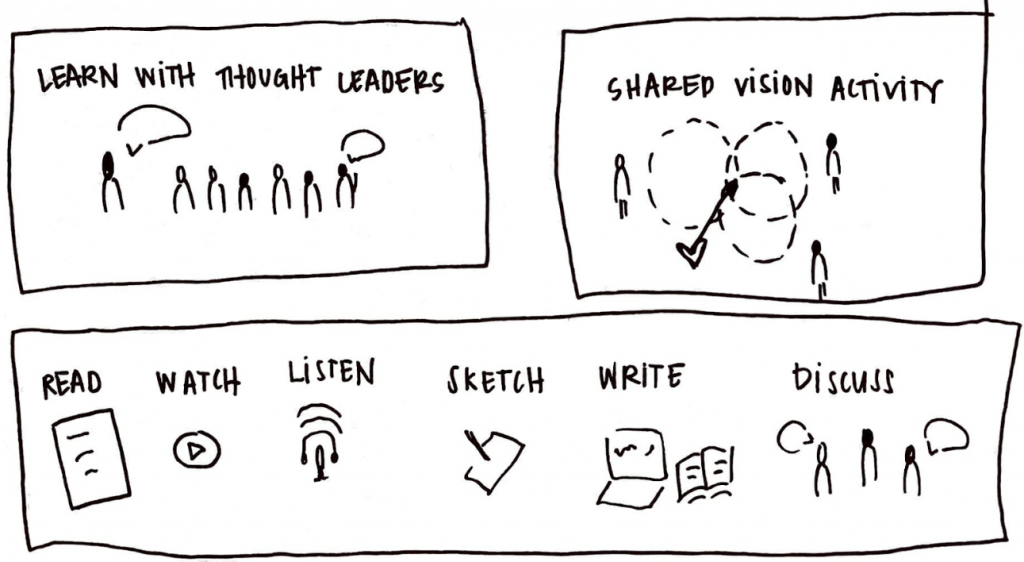 Education and Advocacy Aims
Educate ourselves — what actions need to be taken to dismantle racist policies and practices governing school algebra in Syracuse?
Educate others — build relationships and engage in dialogue with thought leaders and community members to identify problems and solutions
Advocate for Change — persuade decision makers and instructional leaders to examine and dismantle racist policies and practices that shape students' experiences in and pathways to school algebra
Why Antiracism in Algebra in Syracuse?
All students in New York state need to pass Algebra and the Algebra Regents Exam in order to graduate high school. Otherwise, Algebra serves as a gatekeeper for students' success.
Disproportionality in access and outcomes is often an indicator of racist policy and practice. Part of our work is to interrogate the practices and policies that contribute to inequities along racial lines.
Guiding Questions at the Classroom, School, and District Levels
How can math teachers take action in classroom settings to disrupt racism? What are innovative approaches to curriculum and instruction that are antiracist?
How are the practices and policies governing school algebra in Syracuse "gatekeeping" Black students' success?
What actions need to be taken to dismantle racist policies and practices governing school Algebra in Syracuse?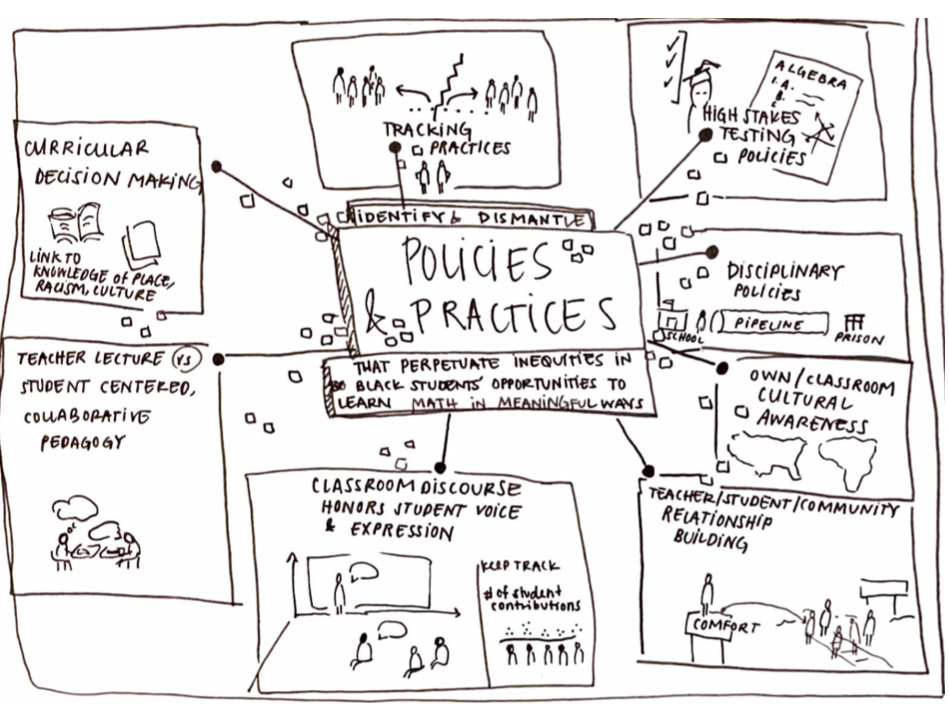 An Invitation for "Cogen" Leaders
We are recruiting a racially diverse group of youth, teachers, researchers, administrators, parents, and community members dedicated to racial justice in Syracuse, NY to co-lead this effort. Cogen leaders will co-construct and co-lead a working and learning group focused on racial justice in algebra education in SCSD.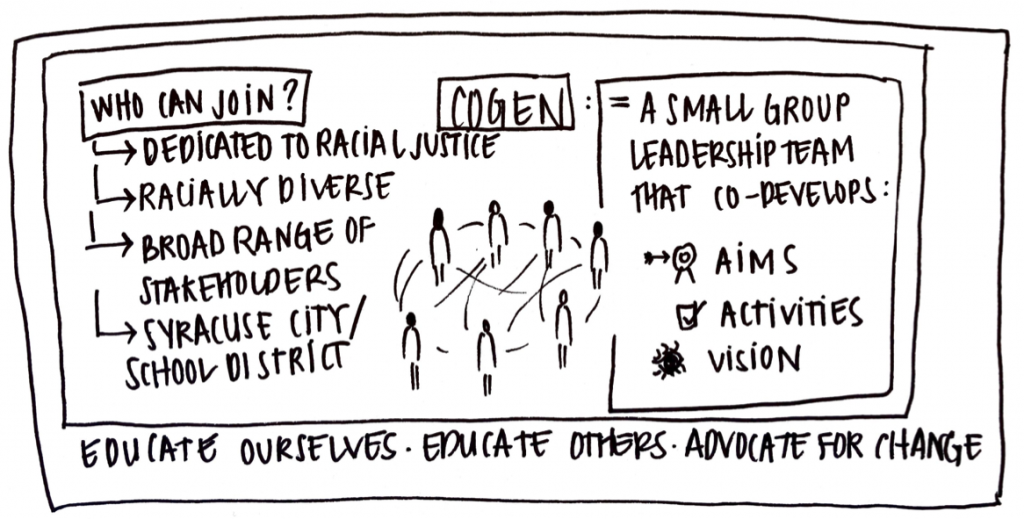 Are you dedicated to racial justice for youth who identify as people of color in Syracuse, NY?
Are you a stakeholder in public education in Syracuse, NY
(a parent, teacher, student, leader, public official, administrator, or community member)?
…. If you answered yes, then your voice needs to be heard.
You can learn more about the project by viewing an overview slide show here.
Contact
Please reach out to Nicole L. Fonger nfonger@syr.edu to learn more about the project. Nicole is a dedicated SCSD parent, Syracuse community member, artist, writer, and math education professor at Syracuse University.
From the blog